Artificial Grass for Schools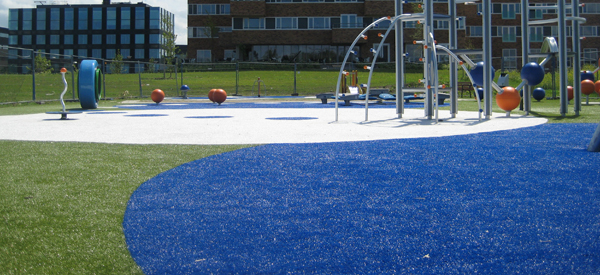 Town Grass are one of the UK's largest and most trusted artificial grass suppliers and installers. Our in-house installation teams undertake commericial landscaping projects as well as fitting artificial grass for private clients: as such, provide many schools, nurseries and childcare centres across the UK with artificial grass playing areas and safety surfaces.
To kick things off, we like to answer a few preliminary questions in order to demonstrate the flexibility and value-for-money offered by artificial grass: and to show off our skills in installing it!
Question 1: What are the benefits?
Safe, Clean, Cheap, Quick. In that order. Artificial grass is a surface that drains freely, provides a soft landing (especially when we install a shockpad underneath) is non-toxic, and is easily cleaned and maintained. It is clean in that children can go out and play football on it, roll around, generally have fun and yet do not stain their clothes or bring mud back into the classroom. It is cheap because a single installation requires little maintenance; there is no mowing, watering, or re-seeding required, and repairs are very easy to make should they be needed. Finally, it is quick. An installation can often be done in one day: even large areas with play apparatus can be done in less than week.
Question 2: Are there different grass types? If so, which is best?
Yes there are different grass types and some will be more suitable than others depending on the purpose of an installation. If the play area is to be used for sports as well as play, if it is liely to incur heavy usage, if it is for older children as well as youngsters, then an 'infilled' surface is probably recommended. An 'infilled' surface is one where a layer of sand (or sometimes rubber for the more serious, 3G sports surfaces) is introduced into the artificial grass to lend it stability and protection form users.
If the surface is just to be used as a 'break-time' play area, especially for younger children, then a non-infilled grass type will be fine. These are generally softer to the touch and more realistic looking.
Question 3: Have you installed in our area?
We are a UK wide supplier and installer. Our installations can be seen across the United Kingdom. If you would like to discuss a project, please feel free to talk to one of our friendly sales team on 03303 308581, or drop us a line by email and we will respond shortly.