Artificial Grass for Balconies and Roof Terraces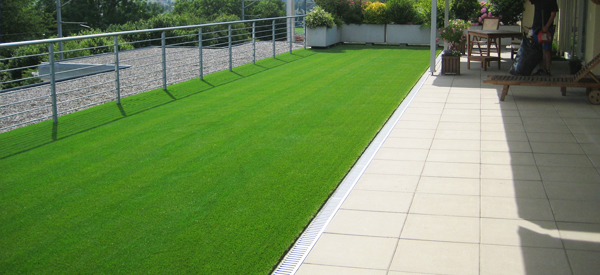 When most people think of artificial grass; they think gardens. It is such a versatile material though that Town Grass install artificial grass for balconies, roof terraces, and roof gardens across the UK and it is becoming an extremely popular surface for residential homes and businesses alike. We have compiled a list of the most frequently asked questions that our customers ask, and provide answers below. If you would like to speak to one of our friendly sales team, please feel free to drop us a line, or call 03303 308581. – Town Grass team.
How easy is it to install artificial grass on a balcony?
Very easy, and very quick. We can fit the artificial grass to almost all outdoor surfaces. For balconies and roof terraces, this is likely to include tanalised timber or hardwood, concrete, metal, ceramic tiles, sometimes brick, sometimes a rubberised surface, or bitumen felt. Each surface will require its own installation process but generally speaking we would either tack it with galvanised nails or stick it using an adhesive.
How quickly can it be done?
In terms of installation, the majority of balconies, roof gardens, and terraces can be fitted in one day by one of our teams. In terms of turnaround, the grass will usually take 3 – 5 days to be produced and we aim to arrive and install as quickly as possible.
Which type of artificial grass is best for balconies or terraces?
This is up to you, and depends on your preferences. If you want a soft and realistic-looking grass, we would recommend one of our luxury grass types – either Emerald or Ascot. However, if you want an artificial grass roof on a budget, then Meadow might be better. Alternatively, if you just wanted a very durable, all-weather, out-door carpet, then we would recommend our Retro grass. If you would like to see samples of any of our artificial grass types, please feel free to Request a Sample here.
Is it 'user-friendly' ; how do you clean it?
Yes it is very user-friendly. Don't worry about spilt drinks or rain or dirt. Artificial grass is very easy to clean, and is very hard wearing for high foot-fall areas. The grass can be cleaned with a sponge or mop or cloth or even a vacuum cleaner. Washing-up liquid can also be used, but not bleach.
Contact Town Grass now to discuss a project
Telephone: 03303 308581 Email: grass@towngrass.co.uk